WIRE & CABLES
Coaxial Cables
50% of new antenna installations have feedline trouble!

Don't compromise your next installation with a questionable coaxial cable. High quality coaxial cable assemblies are made with only the best materials. Connector pins are soldered, not crimped.

20W field radios - Mini is a thin, light 50 ohm cable for field use. It weighs about 4 lbs per 100 feet. Available with BNC connectors for your PRC-150 or similar. (Do not use this cable over 20 watts, or over 100 feet.)

Base and amplified radios - 9913 style Superflex is a 50 ohm low loss high power cable, with type 'N' male connectors. This double shielded .405 OD flexible cable will handle 1500 watts, has 1/2 the loss of standard cables, can be directly buried, and is UV resistant. Use this cable with VRC-100 and other higher power radios.

Choose the proper cable, connector and length from the table in the price list section of this website. Other lengths and connector options available. Contact us with your requirements.

---
Interseries Coaxial Adapters
Use to connect varies cables with antennas and radios.
HNM-NF
Interseries Coax Adapter, HN male to N female
Change output of VRC-100 to standard N conn
UG-83
Interseries Coax Adapter, N female to UHF male
UG-146
Interseries Coax Adapter, N male to UHF female
UG-201

Interseries Coax Adapter, BNC female to N male
Connects most field radios to an antenna with N connector.
UG-273
Interseries Coax Adapter, BNC female to UHF male
UG-349
Interseries Coax Adapter, N female to BNC male
---
Coax Seal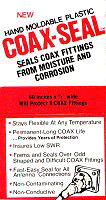 Seals coaxial fittings from moisture and corrosion. Simply form the hand moldable plastic over your antenna coax connection to ensure moisture stays out and SWR stays low.
---
Camouflaged SuperFlex Antenna Wire
Green and Beige PVC Insulation
Perfect for making camouflaged long wires. This wire is 169 strands of very fine copper wire, making a 14 ga conductor. It is extruded inside a thick PVC jacket. The wire is in a rope (bunch) lay, which yields amazing flexibility.
AWI - SuperFlex Wire
Order in increments of 100 feet
---
Antenna Wire
Stainless Steel
The ideal wire for making antennas. This stainless steel wire (not cable!) is custom made for us, with 7 strands of 22 gauge making a 14 gauge conductor.

There are many different wires offered on the market. Everyone claims that their wire is the best. What makes ours so good? After more than 70 years in the business, we should know! The wind rating on our folded dipole antenna is 100 MPH with two supports, 150 MPH with 3 supports. Don't let the next storm claim your antenna because you used the 'wrong' wire.
AWS - Stainless Steel Wire

Order in increments of 100 feet