B & W is closed from 11/27/23 - 1/8/24. No shipments will be made during this time.



Composite Fiberglass
Tactical Mast Kits
MK114 Light Weight Guyed Mast
For Rapid Tactical Deployment

NVIS and Inverted Vee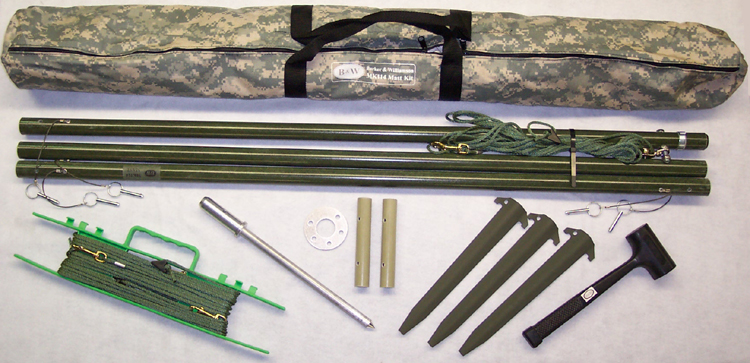 12 Ft / 24 Ft Installation w/Antenna
(Look carefully for the far end mast)
12 Ft Tactical NVIS Mast Kit
The best camouflage tactical support masts
Barker & Williamson's tactical mast systems, together with our broadband antennas, give forward and rear units the HF communications capability needed in today's environment. Configurations are available for both NVIS and long range use. All come in complete kits including the poles, pins, camouflage carry bags, hammers, guy lines, top mounted halyard pulleys, etc.

Mast poles are made in 4 foot sections. They are rapidly field assembled with an inner joiner, and pinned together. The pins are captivated to the poles with lanyards so they won't get lost. A locator pin is hammered into the ground to stabilize the bottom of the assembly. A guy ring is placed on top, and lines run down to ground stakes. The preassembled guy lines have easy to use tensioners and snap hooks.

The material utilized for the pole sections is a composite known as FRP - fiberglass reinforced plastic. Unlike cheap "fishing pole" material it is extremely lightweight, strong, and rigid. The color is throughout the material - no chipping paint. Also, shock hazards are eliminated.

Other features include aluminum bottom locating pins and ground stakes to avoid rust. All guys and lines utilize polyester, which won't stretch, rot, or degrade in UV.
As usual, B&W brings you the best!

| | |
| --- | --- |
| Rapid Deployment | One man can set up a 12 ft mast section in under 5 minutes. The 24 ft mast requires 2 men to set up. |
| Complete | Complete tactical kits include the poles, pins, carry bag, hammer, preassembled guy lines - everything. |
| Small and Light | All of our MK114 pole kits break down to just 4 ft in length. Easy to ship, easy to carry. A complete 12 ft mast kit weighs just 10 lbs. |
| Performance & Safety | Light and easy to handle. NO SHOCK HAZARDS! Performs better with the radio than metal or carbon fiber poles. |
| Camouflage | Available in forest green and sand colors. |
Part Number Selection
These masts come several different ways. Please read carefully to make the proper selection for your intended use. These are not intended for permanent base uses - utilize the MK112 series instead.
TACTICAL/PORTABLE USES
MK114-312T
Complete NVIS setup for our BWD/BWDS folded dipole antennas. Includes three 12 Ft mast kits. (Order MK114-CM seperately.)
MK114-324T
Complete NVIS / Long Range setup for our BWD/BWDS folded dipole antennas. Includes two 12 Ft and one 24 Ft mast kit. This may be used for NVIS, or pull the center up higher for an inverted Vee. (Order MK114-CM seperately.)
MK114-112T
One 12 Ft mast kit only. Use this to run NVIS when you have a support such as the side of a building or tree.
MK114-124T
One 24 Ft center mast kit only. This may be used to support our end-fed Vee antennas in the field.




These mast kits are designed to support our BWD/BWDS or AC/ACS broadband antennas. They may also be used to support most any wire dipole antenna.

These kits have rapid deployment 4 Ft mast sections which are pinned together. All mast tops have a halyard pulley. Kits come complete with camouflage carry bags, and are intended for temporary field use.




Specifications:
Pole Size 1-1/4" dia, 1/8" wall
Height Up to 24 Ft
Guy Spread Half the height
Guy Tension 5 - 10 Lbs
Head Load 6 Lbs Max
Wind Loading 12Ft @ 50 MPH is approx 10 Lbs sideways
24Ft @ 50 MPH is approx 20 Lbs sideways
Weight 12 Ft Mast weighs 5 Lbs, approx 10 Lbs for complete kit
24 Ft Mast weighs 10 Lbs, approx 17 Lbs for complete kit